20 Things To Do In Salida Co — Salida, Colorado, is a scenic town in the Southwest Rocky Mountains that relies on art, locally based food, and outdoor adventure. Whitewater rafting, mountain climbing, fantastic restaurants, and hours spent learning about the local culture and history can all be found in Salida.
This hilly town known as "Salida Colorado" has become popular for a wide range of activities. As a frequent traveller, I frequently peruse periodicals in search of the next "it" destination. Salida, CO drew my attention due to its warm climate, which allows for a wide range of activities.
Salida is a small mountain village in the Rocky Mountains. In 2017, Outside Magazine named it the Best Unsung Mountain Town. It was also dubbed America's Coolest Town for Outdoor Adventure by the Matador Network, which should tell you everything you need to know.
In this lively tiny town brimming with joy and excitement, I found both adventure and tranquilly. Salida offers lots to offer the whole family, with mountains on one side and the Arkansas River running through it.
Whatever you choose to do with your time, you'll be blown away by what this town has to offer. I adore sightseeing and adventure, which is exactly what Salida has to offer. Families seeking for a more relaxing day out, on the other hand, will find a plethora of possibilities.
There are so many things to do in Salida, Colorado, that you'll be spoilt for choice if you visit the "Heart of the Rockies."
I've divided the activities and attractions into categories because everyone has their own concept of a good time. This should assist you in deciding how to spend your time in Salida.
    20 Things to Do in Salida Co:
1. Skiing At Monarch Mountain
Monarch Mountain is a local favourite for skiing and snowboarding, with terrain to suit all ability levels. Monarch Mountain has everything for everyone, from cat skiing to backcountry tree runs, simple rolling novice terrain to technically hard black diamonds, and everything in between.
There is even on-mountain tubing with a broad assortment of tracks for individuals who do not appreciate crossing the slopes. From cuisine to ski stores, motels, and more, the Monarch Mountain village has everything a visitor could want.
Check out their website or call them for the most up-to-date snow reports.
2. Whitewater Rafting
Every year, adventure seekers flock to Salida to raft the Arkansas River and its environs. It's one of Salida's most fascinating hobbies, and there are possibilities for people of all ages.
At first, I was sceptical, although the Arkansas River is America's most famous whitewater rafting river. It runs through Salida, therefore no trip to Salida is complete without seeing it. Whitewater rafting is the most popular summer activity in Salida, Colorado.
Although Colorado is a landlocked state, the watersports offered in Salida will make you forget it. There are journeys of all lengths and levels of difficulty available, so even the little ones may enjoy themselves! I discovered that booking a trip with an experienced whitewater rafting guide is the best option. Because there are so many different guides and tours to choose from, it all boils down to personal preference.
Almost every day, guided tours are provided, ranging from relaxing paddling to exhilarating, high-speed experiences. My fellow passengers advised me that the higher level rafting is well worth it, even if I chose a softer experience.
3. Captain Zipline, Salida
At Captain Zipline, you may experience the excitement of scaling cliff faces, zooming through valleys, and teetering on sheer ledges while being supported by cutting-edge technology and safety equipment.
The main way to spend the day at this Salida attraction is to participate in the Via Ferrata courses, which are Italian for "Iron Road," and allow tourists to explore special routes, climbs, and ziplines that are otherwise inaccessible to the general public.
The other attraction is a modern ropes course that is exciting for the whole family, with a variety of hard and amusing layers and courses, as well as a great location for scenic action photos.
One firm that offers a high-flying thrill in the centre of Salida is Captain Zipline. Ziplining is offered all year, however it is most popular in the summer. It's one of the more enjoyable things to do in Salida, Co, during the winter because it's usually less crowded.
Safety is one of my top priorities when I travel. Captain Zipline's trips and activities are fully insured and regulated by the state of Colorado. Their equipment is also inspected on a regular basis by ACCT-certified inspectors. This means you have nothing to be concerned about as you embark on this journey.
Ziplining may appear dangerous, but it is simple enough to accomplish, and children as young as six years old are welcome.
4. Monarch's Scenic Tramway
The Monarch Crest Magnificent Tramway and its adjacent Gift Shop are a prominent feature of Monarch Pass, a scenic location located along the Continental Divide near the Sawatch Mountain Range, at an elevation of 11,312 feet.
The tramway has been in service since 1966 and is the state's longest-running and oldest tramway. When the weather is clear, the trip takes riders above 12,000 feet in height, giving breathtaking panoramic vistas of mountains, valleys, and even Pikes Peak.
There are plenty of hiking and bike routes surrounding the tramway, as well as benches for guests to relax on while taking it all in.
The Monarch Crest Scenic Tram is one of my favourite things to do in Salida, Co. It's not a particularly taxing activity, but it's a lot of fun. This location is particularly perfect for tourists and travellers because it has a gift shop with fantastic goods.
The tram is located at the summit of Monarch Pass and is Colorado's oldest operating tram. Make it the view if you only visit the tramway for one purpose.
5. Spiral Drive
Locals and visitors alike appreciate Salida's Spiral Drive for its one-of-a-kind driving experience and stunning views from the summit. The drive takes travellers on a literal spiral out of town, climbing a tiny hilltop, and eventually leading to a decommissioned fire lookout station.
Guests can see in all directions around Salida from this station, with mountain peaks glittering in every direction. Make sure to take a close look at the brightly painted tree by the road; it's a work of art produced by Curtis Killom, a local artist and company owner.
A gazebo at the top of Spiral Drive offers a spectacular view of the town and surrounding countryside. The Arkansas River, mountain ranges, and the lovely town tucked in the valley are all visible. Although it is feasible to just drive up Spiral Drive, thrill seekers choose to run, bike, or walk to the summit.
In the Rocky Mountains, mountain biking is a popular adventure sport. Spiral Drive is a great way to experience mountain riding in the Rockies without exerting too much effort.
Spiral Drive is only 1.7 miles long, making it a relatively easy trek or bike ride. Walking up Spiral Drive will give you a new perspective on the town. The walk is dog-friendly, making this a true family-friendly exercise.
6. Hot Springs In Salida
Colorado's hot springs are well-known, and for good reason. Salida has a number of hot springs where you may relax and unwind. After intense activities like whitewater rafting, trekking, or bicycling, this is extremely nice.
Natural water from an underground hot water spring is available at the Salida Hot Springs Aquatic Center. It is the country's largest facility of its sort. There are two pools, one quite huge and slightly cooler than the other smaller and shallower. The smaller one features a waterfall function and is ideal for long soaks.
Private soaking pools with temperature control are also available. These European-style pools are popular with honeymooners and couples on vacation since they can accommodate two to three people at a time.
The hot springs are able to provide guests with fresh spring water without putting a pressure on the environment since they use locally sourced hot subsurface spring water from high in the Rocky Mountains.
A 75-foot, 6-lane pool and a smaller leisure pool are available, with the larger pool maintained at around 84 degrees throughout the year. The smaller leisure pool is hotter, with a temperature of around 98 degrees.
7. Visit The Salida Museum
After Harriet Alexander's death in 1971, the Salida Museum was established, owing in part to a substantial bequest from her.
Harriet Alexander has a long history in Salida, ranging from owning and operating businesses to campaigning for municipal government and serving as a good Samaritan.
In her honour, the Salida Museum was established to maintain local culture, preserve local history and artefacts, and provide visitors with an opportunity to learn about Salida in general.
The museum assists in the preservation of many locally noteworthy items that have played an important role in local history, as well as providing research opportunities for local students.
8. Go Fishing in the Arkansas River
If you're in Salida, the Arkansas River will undoubtedly attract your eye. It runs through downtown and even has makeshift beaches where you can enjoy languid summer days.
While fishing can be a wonderfully relaxing hobby, it can also be rather thrilling. Many people, including me, love sitting quietly by the lake casting a line and anticipating the thrill of a strike.
Fishing is all about locating the right spot, as experienced anglers know. Fortunately, the entire Arkansas River in Salida is ideal for fishers. The fish hatcheries at Salida ensure that 5000 trout per mile are stocked in the waters in and around Salida. Because of the amount of fish, flow control, and water quality, the upper section of the river was given Gold Metal status.
You'll have a hard time finding better fishing anywhere else. Fly fishing is popular here since you're more likely to catch trout, and with 70 miles of fishing places and a plethora of fly shops and fishing outfitters to help you, you're sure to catch the season's biggest fish.
9. The Arkansas Headwaters Recreation Area
The Arkansas Headwaters Recreation Area was founded in 1998 to protect local wildlife and natural features. It spans nearly 10 square miles and is open Monday through Friday from 8 a.m. to 5 p.m., with weekend hours varying.
It is frequently referred to as one of the most popular whitewater rafting and kayaking destinations in the United States. The Arkansas River is home to a world-class fishery as well as a number of tough rapids.
Visitors to this leisure area can enjoy hiking, camping, wildlife watching, mountain biking, and even rock climbing in addition to water activities.
10. Visit National Monument Salida
One of the most remarkable things to do in Salida, Colorado is to visit Browns Canyon National Monument. It is home to spectacular rock formations, abundant animals, high-rise canyon walls, and portions of the Arkansas River.
Even if you only want to see the monument to see how beautiful the landscape is, there is still much to do. Hiking, whitewater rafting, and fishing are all popular activities in the Monument area. This region covers 21,500 acres, so you'll have plenty of room to accomplish whatever you want.
---
11. Riverside Park
Another must-see attraction is Riverside Park. It is located in downtown Salida on the Arkansas Riverbank, as the name suggests. This is an excellent destination for families with children. In the region, there are restaurants and eateries where you may eat. After that, take a leisurely stroll through the park, where youngsters may enjoy the playground and climbing wall.
The greatest time to visit Riverside Park is during the summer, when they organise a free concert series. Guests are entertained by local and national musicians as they enjoy a relaxing evening in the gorgeous park.
12. Go Horse Riding
Granite Mountain Outfitters specialises in taking visitors camping and horseback riding in some of Salida and Buena Vista's most picturesque spots.
They specialise in enhancing people's lives from coast to coast through western adventure and ranch fun under the leadership of their team of professionals, with over twenty years of expertise.
The organisation takes guests to destinations with spectacular panoramic views of Lone Star State towns, landmarks, rivers, lakes, and plains, using their impressive fleet of steeds and various watercraft.
You will be accompanied by expert wranglers who are completely capable of safely handling their stock.
Day passes for point-to-point rides into the Sangre de Cristos mountains are available.
Those who have taken a vacation with Granite Mountain Outfitters have described it as amazing.
So, whether you're looking for a short, medium, long, or even extra long ride, your trip through the desert will be an incredible adventure!
13. The Maverick Potter
The Maverick Potter, being a family-owned business, understands the importance of entertaining families and delivering value for their time. They are now a studio facility that exhibits both in-house artists such as Mark and Suzanne Rittman, as well as up to 36 local and regional artists.
Their workshop is open, light-filled, and brimming with both useful and ornamental pottery. Families will like the fact that interactive pottery nights are offered many times a month, allowing parents, children, and other interested folks to paint their own custom-selected pottery to take home.
14. Salida Walking Tours
Many tourists visiting European towns appreciate the wide number of walking tours offered to learn about local history and events, something that is sometimes lacking in American cities.
However, Salida is fortunate to have the Salida Walking Tours organisation, which has been providing participatory walking tours for many years.
With a range of tours to select from, each focusing on a different aspect of Salida's history or location, Salida Walking Tours is so convinced that customers will like their trip that they give a full refund if they aren't satisfied.
15. Moonlight Pizza & Brewpub
The Moonlight Pizza and Brewpub is one of those fantastic places where patrons can relax, order a beer, and eat locally produced pizza from a socially and environmentally conscientious establishment.
Moonlight Pizza provides 10% of their total sales to local Salida programmes every Monday, including school groups, ski clubs, horse rescues, mentor programmes, and more.
Furthermore, they think that creating all of their doughs by hand provides them a competitive and flavour advantage over other Salida pizza shops.
Guests may be perplexed by the lack of coasters, straws, and ice in sodas, but Moonlight Pizza and Brewpub intentionally excludes these products to lessen their environmental effect.
16. Explore Historic Downtown
The state's largest historic district is located in Salida, Colorado. While wandering around downtown Salida is a terrific way to view the city, for the greatest experience, book a walking tour. There are two excursions offered by Salida Walking Tours: a Ghost & Murder trip and a Wild West History Tour. Both trips are led by appropriately dressed tour guides who are well-versed in Salida's history.
Over 100 historic structures dating from the turn of the twentieth century may be found throughout the town. They now house a variety of shops, including antique shops, outdoor outfitters, restaurants, and pubs, for visitors to enjoy.
17. Explore the Creative District
Salida boasts a surprisingly busy arts scene for a town of only 6,000 people. Salida, which was named one of Colorado's first Creative Districts in 2012, is home to a large number of active artists and creatives, and it's easy to see why, given the breathtaking mountains and Arkansas River that surround the town. In Salida, there are around 20 art galleries ranging from fine art to photography.
Bork and Watkins Gallery is a popular choice. This gallery, which features paintings by a local husband and wife pair, exhibits the many forms of art that Salida has to offer.
Bork paints in a lovely impressionistic style that highlights Colorado's natural beauty, whereas Watkins' strange style has its own charm.
Take a trip into downtown for more possibilities. It's easy to discover a beautiful piece of art to memorialise a vacation to Salida, with over a dozen galleries to choose from.
18. Visit San Luis Valley
A day trip to the San Luis Valley is easily accessible from Salida. Aside from the hot springs, the San Luis Valley is known for UFO sightings, and those interested in learning more should visit the UFO watchtower near Hooper, Colorado.
This quirky area, which includes a ten-foot-high observation deck, a gift store, and a campground, is a terrific opportunity to enjoy a stunning view of the San Luis Valley and maybe even spot something unusual.
Great Sand Dunes National Park is also a fantastic place to visit. Great Sand Dunes National Park is one of the top day trip destinations from Salida, offering camping, hiking, and some of the best views of the night sky.
Sandboarding and sand sledding on the dunes are two of the most popular activities at the park. Sandboards should be rented before entering the park because no rentals are available from the park itself.
19. Go Mountain Biking
Mountain biking is fantastic just outside of Salida's municipal limits, and riders of all skill levels may find a trail to fit their needs. Biking the Monarch Crest is one of the most popular activities.
This journey is eleven miles long, with the majority of it taking place on the magnificent Continental Divide Trail, which stretches approximately 3,000 miles from Mexico to Canada. The sights are breathtaking because the Monarch Crest ride spends more than half of its eleven miles above 11,900 feet in elevation.
Another local trail system can be found about northeast of Salida. These trails, known as the Arkansas Hills system, are the closest to downtown.
Bikers can easily chain together a ride that includes breathtaking views and adrenaline-pumping descents within a few miles of town thanks to the abundance of trails of various lengths.
20. Go Hiking
As one might anticipate, Salida and the surrounding area are surrounded by a plethora of world-class hiking routes. Hiking to the summit of Tenderfoot Hill is a popular alternative.
This hill, also known as S Mountain, is easily accessible from downtown Salida, and the views from the summit of Salida, at 7,504 feet, of the surrounding mountains are hard to surpass. The Salida River walk, an easy, meandering path that follows the Arkansas River from downtown, can easily be added to this hike.
Look to the mountains to the south of Salida for slightly more distant hikes. The Double Rainbow Trail is a fun but yet manageable hike. Most tourists should be able to complete this 2.2-mile climb, which rises roughly 300 feet in height. This trail is popular with both hikers and mountain bikers, so keep an eye out for them while trekking.
More Things to Do In Salida Co: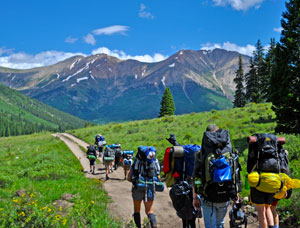 Salida, as a hive of activity, provided me with so much to do that my schedule was completely booked. It is worth noting, however, that the surrounding area also has a lot to offer. To take it all in, schedule a journey that lasts at least two weeks.
Snow-related Activities : Things To Do In Salida Co
Snow enthusiasts, rejoice! Despite Salida's unusually mild temperature, adjacent Monarch Mountain offers the opportunity to play in the snow. Snowshoeing, dog sledding, and snowmobiling are all wonderful activities for the whole family.
UFO Watch Tower : Things To Do In Salida Co
The San Luis Valley attracts visitors from all around the world who are interested in UFOs. It is located near Center, Colorado, and features a UFO watchtower with two vortexes that are claimed to signal parallel universes.
More Fun Things To Do In Salida Co
There are numerous National Parks in the United States, all of which are well worth visiting. Salida is around an hour and a half to two hours away from the Great Sand Dunes National Park. It is open 24 hours a day, 7 days a week, and has a beautiful landscape. The terrain includes grasslands, woodlands, wetlands, tundra, and alpine lakes, as well as the tallest dunes in North America.
There are so many fascinating things to do in Salida Co that it's no surprise that this small town is a hive of activity all year. Many travellers have it on their bucket lists, and I am delighted to tell that I have finally checked it off mine.
Salida has something for everyone, no matter how you want to spend your time. Rafting and other high-altitude aerial activities will appeal to the more daring. Others will appreciate the guided treks and tours that travel around this beautiful region of Colorado.
Make Salida, Colorado your next holiday destination, with its moderate climate and bustling bustle!