15 Best Lake Huron Beaches— You might be wondering which Great Lake offers the greatest beaches while planning a day trip or vacation in Michigan.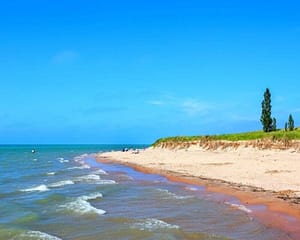 To be honest, every Great Lake that passes through our state provides magnificent Michigan beaches and a lot of enjoyment. However, on the Sunrise Side, Lake Huron stretches from the Mackinac Bridge in the north to the St. Clair River's mouth in the south.
Wide, sandy beaches and bright blue seas are synonymous with Lake Huron. In the freshwater surf, it's ideal for swimming, splashing, and playing.
We're confident that Lake Huron's magnificent coast is a true natural Michigan gem, and we think you'll agree once you've seen it for yourself.
We'll tell you everything you need to know about visiting Lake Huron Beaches.
One of the most amazing things about the United States of America is that it has practically every type of scenery imaginable.
From huge, arid deserts to snow-capped mountain ranges and everything in between, America has it all, as well as a diverse spectrum of geological features and natural wonders.
The country also boasts an incredibly extensive coastline with numerous gorgeous beaches to explore. However, coastal states aren't the only ones with world-class beaches; several of the best beaches in the United States can be found inland, far from the Pacific or Atlantic Oceans.
The consequence is a plethora of soft-sand beaches with turquoise waters, but we can't possible include them all here.
Instead, we've compiled a list of the 15 greatest Lake Huron beaches that you should check out.
15 Best Lake Huron Beaches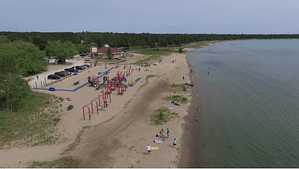 The beach at Providence Bay, located on the south shore of Manitoulin and overlooking Lake Huron, is said to be the nicest in Northern Ontario.
The bay was named Bebekodawangog by the early residents of the area, which means "where the beach curves around the sea." After being shipwrecked offshore, survivors eventually made it to the beach and named the bay 'Providence.'
Manitoulin Island is a tranquil and slow-paced destination with a plethora of gorgeous lakes, rivers, and hidden sandy beaches.
The excellent sandy beach at Providence Bay on the island's south side is the largest. The shallow, crystal-clear water is ideal for families, and there's a beachfront playground to keep the kids entertained.
On the wonderful boardwalk, don't forget to take a stroll or see the sunset. Paddlers can explore the bay or travel up the Mindemoya River, which leads to the same-named lake.
Take a leisurely stroll along the boardwalk or go salmon fishing in Lake Huron's waters. Families will appreciate the children's playground as well as the adult workout equipment, and everyone will appreciate the relaxed island environment.
The following are some of the beach amenities:
The Harbour Centre has a restaurant, a science centre, a history room, and restrooms (Seasonal)
The boardwalk is wheelchair accessible.
Mobi Mats (accessibility mats) are available in the playground and at the beach.
Please note that the mats cannot be submerged in water.
Adult workout equipment at Annie McNichol Playground
Changing Rooms/Washrooms in Public (seasonal)
Parking and the Picnic Area
2. Hilton Beach : Best Lake Huron Beaches
Hilton Beach is a small village of 200 people on St. Joseph Island in Northern Ontario, Canada.
Every summer, thousands of boaters and cottagers visit the Village, which has one of the largest and best-served marinas on the North Shore.
For nearly a century, Hilton Beach has been an important port of call and a famous tourist attraction on the northeast shore of St. Joseph Island, in the heart of the Great Lakes.
The Hilton Beach Marina is one of the largest in the North Channel, as well as one of the most beautiful in the Great Lakes. Every summer, this beach welcomes hundreds of boats from all over the world. It offers exceptional service in all areas of recreational boating.
There are three restaurants in the area that provide a variety of dining options. Accommodations, a grocery store, a library, a post office, and a variety of gift stores and other services are all available at Hilton Beach.
A beautiful park named Killbear Provincial Park lies close to the town of Nobel, in the Parry Sound of Ontario.
Killbear mixes sandy sea shores ordinary of the Great Lakes with the Canadian Shield's stone edges and pines.
Georgian Bay is known for its polished granite coasts rather than its gently sand beaches, but this beautiful park near Parry Sound provides a rare opportunity to experience both.
Killbear Park tourists enjoy some of the best swimming in Georgian Bay, with a 2-kilometer main beach and a half-dozen smaller beaches backed by rocky headlands and windswept pines. Under the woods, camp with a beach view and get to the ocean as the sun rises.
In addition, there are a slew of little offshore islands that make for exciting paddling excursions.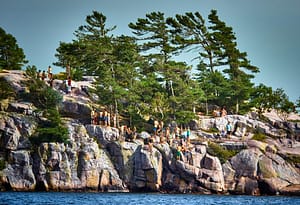 The park's extensive and diverse types of shoreline are ecologically significant. Different wetland, meadow, and coastline vegetation types emerge when water levels in the Great Lakes fluctuate over decades.
Natural shoreline ecosystems can be harmed by high levels of human activity; now, only limited portions of natural beach remain intact in this park.
Camping, swimming, boating, cycling, and fishing are all available at the park. The park's proximity to southern Ontario makes it quite popular, especially during peak season, and despite its huge number of campsites, reservations are typically required.
The campgrounds are organised into campsites, each of which is centred on a particular amenity, such as a beach.
4. Starlite Beach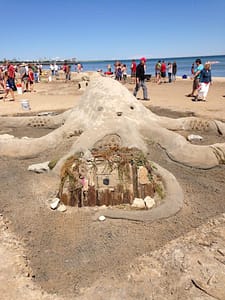 On Lake Huron, near State Avenue, is Starlite Beach. This park features three huge children's play structures, two children's play spaces, public toilets, a pavilion, picnic area, beach, off-street parking, and a splash park, which was added in 2018!
A fantastic, huge, open beach with a large playground, barbecue pits, picnic tables, and restrooms. The beach overlooks Lake Huron, providing stunning views. Several restaurants and stores are within a few minutes' walk.
Biking, canoeing, kayaking, and swimming are some of the activities that you can do on this beach.
5. Mich-e-Ke-Wis Park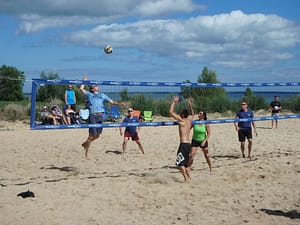 With its swimming beach, volleyball courts, horseshoe pits, children's play area, bike park, picnic area, open grass for kites or frisbee, and a large pavillion, Mich-E-Ke-Wis Park is a great spot to spend the day.
Biking, canoeing, freighter watching, kayaking, parking, picnicking, scenic viewing, and swimming are some of the best things to do here.
Despite its proximity to Starlite Beach, Mich-E-Ke-Wis Park offers a completely distinct experience. That's why it's one of our favourite beaches on Lake Huron. Sunbathing and swimming are popular activities on the sandy beach, and stand-up paddleboarding and canoeing are popular in the lake.
Volleyball courts, ball fields, playground equipment, horseshoe pits, and a BMX bike park are among the amenities available.
---
RECOMMENDED READINGS :
6. Oscoda Beach Park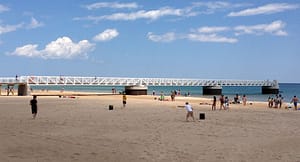 Situated along a few hundred feet of tenderly inclining sugar sand, the Oscoda Beach Park offers present day jungle gym gear, ball court, skateboard park, bathhouses, barbecues, outdoor tables, bandshell and a promenade.
With many huge overhanging trees, the recreation center is great for 'youngsters' all things considered, and is only two squares from downtown Oscoda.
The 9.6-acre Oscoda Beach Park is one of the many things to love and do in downtown Oscoda. The Lake Huron coastline is over 1,000 feet long and contains a public beach with a beach walkway.
Beside sunbathing and sprinkling around, you can appreciate numerous exercises at the park.
A portion of its conveniences incorporate a skate park, b-ball court, sprinkle cushion, and kids' play structures. Also, the Oscoda Beach Park has a footpath that prompts a cleared dock.
7. Bay City State Park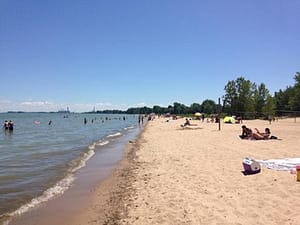 Bay City State Park, located on the shores of the Saginaw Bay, is home to one of the biggest excess freshwater, seaside wetlands on the Great Lakes, the Tobico Marsh.
Bay City State Park features everything you might desire from a sandy beach vacation spot, including one of the largest freshwater wetlands on the Great Lakes shoreline.
It is located on Saginaw Bay and offers a swimming beach of over 1,000 feet. Pier fishing is available all year, and throughout the winter, ice fishing is permitted just off the beach.
It is a good staging ground for migratory birds, with over 1,000 feet of sandy coastline and over 2,000 acres of wetland forests, wet meadows, cattail marshlands, and oak savannah plains.
The park has long been regarded as a shelter for wetland fauna and vegetation, as well as for its diverse bird population.
Over 7 miles of bicycling and hiking routes, as well as an observation platform with panoramic views of the park and Lake Huron, are available. The park also has an amphitheatre, a playground, a splash pad, a picnic area, and a visitor centre.
This is one of the best Lake Huron Beaches to go to.
8. Port Crescent State Park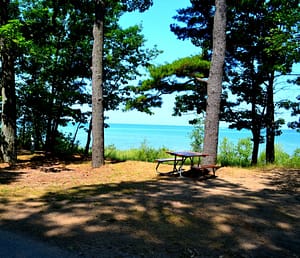 Port Crescent State Park, located near the tip of Michigan's thumb, features 3 miles of sand dunes is one of the most beautiful state parks. The park provides a calm hideaway for couples and families, away from the city's commotion and lights. The beach is lined with a boardwalk that provides a lovely view of Saginaw Bay.
Visitors can have a better view from the observation platform. Activities include canoeing, kayaking, fishing, hunting, swimming, and bird watching.
A contemporary campground, playground, a pet-friendly part of beach, and 7 miles of hiking trails are also available.
A dark sky preserve, a modern campground with waterfront views, and a camper lodge are all located within the park. It also has a 5-mile hiking and cross-country trail, spectacular sunsets, and fishing, canoeing, birding, and hunting activities. A wooden boardwalk runs parallel to the shoreline, providing picturesque views of Saginaw Bay. Beach safety on the Great Lakes.
When the sun sets and the stars come out, visit the park's dark sky preserve, one of just seven in Michigan, for some of the best stargazing in the state. The park is sheltered from light pollution because it is a dark sky preserve. The finest vantage point is near the day-use parking lot, where there is a viewing platform.
9. Lakeside Park and Beach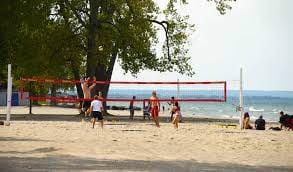 This is another name in the list of best Lake Huron Beaches.
Lakeside Park has 1050 feet of lake frontage with pristine, sandy beaches on the clear waters of Lake Huron.
There are numerous playgrounds, a splash pad, picnic spaces, and restrooms available. Beach volleyball is a growing sport in this area, and on weekends, you'll see a number of boats anchored off the coast, swimming and mingling.
Located across from Lakeside Cemetery, north of the Holland Ave. and Gratiot intersection.
Lakeside Park and Beach in Port Huron has almost 1,000 feet of sandy beach with clean, clear water and nice sand.
On weekends, locals and visitors alike enjoy a variety of attractions at this Lake Huron beach area. Splash pads, volleyball nets, and playground equipment are among the amenities. Two pavilions, a concession stand, and a number of picnic tables and grills are all available.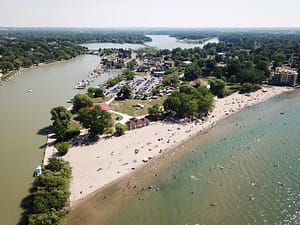 In historic Port Dalhousie, this is a beautiful beach on the south bank of Lake Ontario. Beautiful views of the Port Dalhousie harbour, lighthouse, and Lake Ontario's north shore.
Amenities on the beach:
Parking (80 car capacity / 5 accessible places)
Playground\Carousel
Washrooms
Snack stand
Area for picnics
Courts for volleyball
Trail for walking
10. Lakeport State Park
Lakeport State Park, which is located along Lake Huron, gives inhabitants of southeast Michigan access to the Great Lakes. The village of Lakeport divides the park into two independent parts.
The two campgrounds have a combined capacity of 250 campsites. All sites include a picnic table, fire ring, power, and modern toilet/shower buildings, as well as some pull-through sites and camp pads for easy levelling.
There are opportunities for wildlife observation, swimming, and metal detecting.
Lakeport State Park features a day-use area with a beach where you may swim, dine, watch the birds, or just relax, which is divided into two portions by Lakeport. There are horseshoe pits, volleyball nets, picnic tables, and grills.
There are also 250 campsites spread out over two campgrounds, each with its own fire ring and picnic table. Both campgrounds offer a playground with a variety of equipment and a store where you can buy groceries, camping supplies, apparel, and souvenirs.
11. Sauble Beach
Sauble Beach, which stretches for several miles along the Bruce Peninsula of Ontario, is possibly the most picturesque Lake Huron beach of them all.
This beach is also endowed with some of the softest sands you can hope to find anywhere in the Great Lakes region, and the location receives some really beautiful weather for huge periods of the year, providing exactly the right circumstances for sunbathing and other beach activities.
There are plenty of nice amenities nearby, and the beach's immense size means that even on a busy holiday like the Fourth of July, you can always stroll a little further down the beach and find a peaceful location to listen to the waves.
12. Grand Bend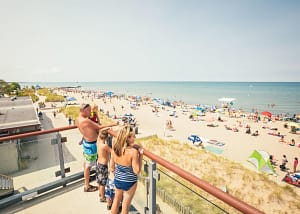 Grand Bend is one of the most prominent Lake Huron beaches, located in Lambton County in the southwestern portion of Ontario, Canada.
The nearby town has grown into a bustling resort destination, attracting tens of thousands of visitors during the summer months and on special events.
The seas are tranquil and pleasant near the beach, providing excellent swimming and splashing chances, but they are also ideal for a variety of water activities such as kitesurfing, kayaking, and parasailing.
There are numerous activities to choose from, and there are various water sport operators in the area to assist you in planning your schedule and making the most of your stay.
13. Port Elgin
Port Elgin, located in Bruce County, Ontario, is another little Canadian town that comes alive in the summer.
The town was founded in the 1800s, but it truly took off in the twentieth century as word spread about how beautiful it was, and most visitors began to flock to the area on sunny days.
The beach is long and well-equipped with a variety of attractions. The Port Elgin and North Shore Railroad, as well as the annual Pumpkinfest special event, are other area attractions and activities.
There are plenty of fantastic walking routes along the coast, and the beach is only a short walk away from a number of top rated cafes, pubs, and restaurants.
14. Hoeft State Park
Hoeft State Park, in the northeastern portion of Michigan's Lower Peninsula, is another great Lake Huron beach. One of the best things about this beach is that not many people are aware of it.
This means that, unlike some of Lake Huron's larger beaches, Hoeft State Park is never excessively crowded or noisy.
Numerous park visitors prefer to spend their time walking along the park's many miles of gorgeous hiking trails or picnicking amid the woods, but the beach is sometimes overlooked.
It's a grassy, sandy strip that goes for quite a distance, with a few seats strewn about as well as nearby restrooms and other amenities.
Hoeft State Park may be just what you're searching for if you're seeking for a secluded Lake Huron beach with outstanding views and a serene ambience and is definitely on of the best Lake Huron Beaches to visit.
14. Thomson Park Beach
Locals choose this little, well-loved beach. This serene and beautiful Lake Huron backdrop is ideal for sunbathing, swimming, and SUPing to the Shamrock and Bay City shipwrecks.
This beach is ideal for swimming because of its smooth sand. This beach is a terrific place to have fun, with picnic tables, BBQ pits, and a huge open area. State Street (US23) is the location, and there is parking along the road.
15. Blair Street Pier
At the end of Blair Street, on Lake Huron, is Blair Street Park. This 0.4-acre park features 173 feet of Thunder Bay waterfront, a restored handicapped-accessible fishing pier, a picnic area with tables and grills, concrete bike paths that connect the State Avenue bike route to the pier, and off-street parking.
What distinguishes this beach from the other Lake Huron Beaches? Of course, the boardwalk!
For panoramic views of Lake Huron, go out or swim along the boardwalk pier at the end of Blair St. Bring your paddleboard or sea kayak to see the Harvey Bissell, John F. Warner, or Shamrock, three separate shipwrecks. In Alpena, it's at the end of Blair Street, just off State Street.
So guys this was our list of best Lake Huron Beaches, hope you liked it.