Round Rock, Texas, located just outside of Austin, has made quite a name for itself in recent years. It has been voted one of the most livable cities in the United States, as well as one of the fastest expanding.
It was the only Texas town to make Money magazine's list of the top ten greatest American small towns to live in in 2008, albeit the term "small" is soon becoming obsolete.
Round Rock is the place to go when you want a big city atmosphere with a laid-back attitude, with attractions like AAA baseball, beautiful parks and trails, a terrific water park, and delicious restaurants. Certain attractions may be closed temporarily or require reservations in advance. Currently, some eateries only provide pickup.
When you're in Round Rock, take it easy and immerse yourself in the laid-back country lifestyle.
From wide, well-maintained parks to fascinating downtown attractions, this Texas city is brimming with gorgeous places to explore.
It's the ideal venue to keep you occupied without exhausting you.
Things To Do In Round Rock TX
• Round Rock Express
Attend a Round Rock Express game if you're in town during baseball season! Under the ownership of Nolan Ryan, his son Reid, and Don Sanders, the Express have been batting balls for almost two decades.
The Express, a Houston Astros affiliate, play at the Dell Diamond in Round Rock. The squad has won the division title six times, and each season has been more thrilling than the one before it.
Trips to watch The Express are ideal for going out and having some fun, with ticket options for individuals and groups, special seating sections, and more.
Baseball fans will undoubtedly love games at the Round Rock Express's home park. After all, it's a chance to witness a minor league baseball team in action.
• Old Settlers Park
A relaxing stroll through lush, spacious grounds with a crystal blue lake and towering trees is a great addition to Round Rock's free activities. After a day of visiting around town, this park is ideal for a tranquil refuge.
Cricket, disc golf, fishing, football, soccer, tennis, volleyball, hiking, and more are just some of the activities available in Old Settlers Park.
There are also several rental spaces available for outdoor parties and events, as well as public festivals held throughout the year. In Old Settlers Park's seven playground sections, even kids will have a great time!
The park is also known as Texas' Sports Capital, hosting tournaments in a variety of sports and attracting teams and spectators from all over the country to experience everything Round Rock has to offer.
• Round Rock Premium Outlets
Round Rock Premium Outlets is a 430,000-square-foot shopping centre with more than 125 stores.
Finding the finest bargains on your favourite brands is a great way to spend a day in Round Rock, and you can do it from this outlet mall.
Adidas, American Eagle, Disney Outlet, and other brands will be available for purchase. There are also a few high-end labels like Coach and Kate Spade.
During your shopping day, recharge your energy levels at one of the many food shops and eateries. When it's raining, freezing, or you're just plain tired, eating tasty snacks is surely a favourite indoor activity.
• Dell Diamond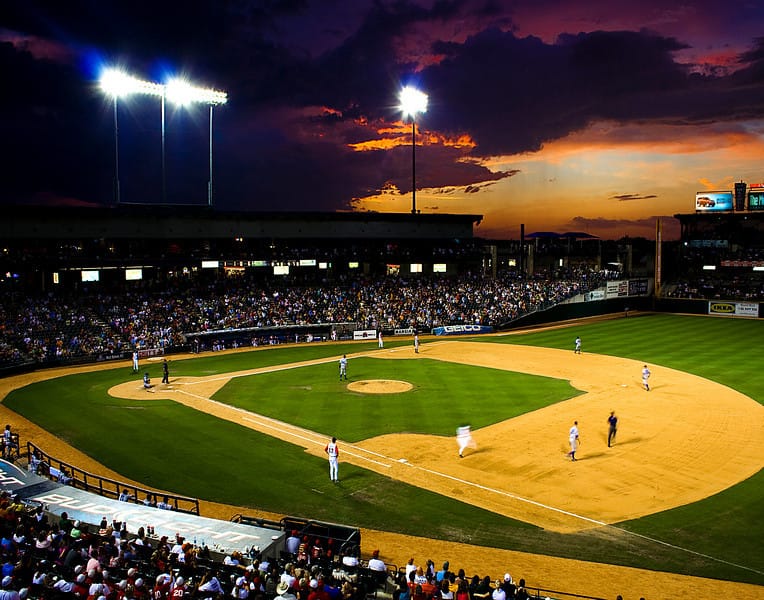 The Round Rock Express aren't the only ones who call Dell Diamond home. The Austin Elite rugby team, concerts, special events, and more are all held there.
From every seat in the house, including the Intel Club, the pool and spa party area, the Premium Seats behind home plate, and the four Topps tables, the stadium offers fantastic views.
Families are urged to bring their young sports fans to The Fun Zone near centre field, where they can play, rock climb, and jump their way out of the game.
Corporate organisations are welcome to visit the stadium and use the United Heritage Center on the first base line for meetings.
• Rock'n River Family Aquatic Center
The 150,000-square-foot Rock'n River Family Aquatic Center is located within Old Settlers Park.
The activities at this waterpark, which include a winding lazy river, insane water slides, and shallow pool playgrounds, make it one of the top choices for fun attractions in Round Rock.
It's no secret that Texas is hot, and Rock'N River Water Park in Round Rock is the perfect spot to cool down. Backaroo Pond is a great place for the little ones to play, while adventurers face The Lookout waterslides or the wet and wild Splashville.
Special birthday party packages include a little something extra for the birthday child, such as return passes for a future visit!
It's the place to go if you want to unwind and spend time with your entire family.
Are you willing to take on the challenge? Climb the park's granite wall and leap from the 12-foot platform into the pool's refreshing waters.
• Play for All Park
With the building and recent extension of Play for All Park, Round Rock residents demonstrated their commitment to inclusion and accessibility for all children.
The park, which spans 51,000 square feet, features eight "pods" where children of various abilities can engage in therapeutic activities, study, and play.
The park is open every day from 6 a.m. to midnight, and service animals on leashes are welcome. More than 60 annual donations finance the upkeep and extension of Play for All Park's pods and play spaces, which serve more than 7,000 local children with disabilities.
• Bats in Round Rock
Bats in Round Rock is a tourist attraction that exhibits Mexican free-tailed bats.
Seeing bats fly out to capture insects is quickly becoming a major attraction and is undoubtedly one of Red Rock's most unusual sights.
After all, it's not every day that you get to see a swarm of bats fluttering around.
Go here a bit before dusk, parking someplace near the McNeil Overpass Bridge. The bats are about to emerge from beneath the bridge, and it's the best time to watch them.
• Memorial Park
Memorial Park, a 14.11-acre primary community park notable for its vast grounds and creek, is located in the heart of the city.
Breathing in the fresh air while strolling around this park is one of the basic, inexpensive activities to do near you if you're wanting to unwind. There are chairs under oak trees for you to relax on, as well as ducks to feed on the creek.
Look for the various historic items in the park, including a commemorative WWII torpedo, to add a little history to your vacation.
• Chisholm Trail Crossing Park
Chisholm Trail Crossing Park is a 1.51-acre park with a one-mile walking trail.
If you're looking for a quick break from the hustle and bustle of the city, this lovely park near downtown is the place to be. It includes a boardwalk that runs through a canopy of trees and a tiny waterfall, making it one of the most gorgeous places to visit this weekend.
Explore the park's short walking trail to find all of the statues and explanatory inscriptions along the way.
• The Salt Lick BBQ
When it's time to eat in Round Rock, The Salt Lick BBQ is a sure bet for finger-lickin' excellence.
The family-owned restaurant has been providing slow-cooked barbecue since 1967, but the recipes and traditions date back to Bettie Howard's journey from Mississippi to Texas in 1867, when she seared and slow cooked meat on the waggon path.
Scott Roberts, her great grandson, still uses her methods today. On weekends, diners may enjoy live music, use of the banquet space, an outstanding full bar, and the vicinity of Dell Diamond, which is right next door.
• Round Rock Public Library
The Round Rock Public Library is a community library located in the middle of downtown Round Rock.
The numerous book options are excellent reasons for you and your young readers to stop by this library during your vacation. If you and your children are bookworms, reading to pass the time is always a good idea.
If you need a break from your thrilling activities around town, go to the library and browse the shelves. To unwind, pick a book and relax in a corner.
• Hoody's Sub Shop
Richard "Hoody" Hood, originally from Delaware, travelled to Texas for college and has stayed for the long haul. Hoody's Sub Shop established in 1989 as a down-home, fresh solution for people looking for something other than quick cuisine.
Hoody makes his sandwiches with fresh, flavorful meats from Boars Head and only the best fixins. He claims that his success is due as much to how he treats his employees and guests as it is to the food.
Some of his workers have worked for him for decades. While the Philly cheesesteak is a local classic, Hoody's also has a wide variety of hot and cold subs to tempt your taste buds.
• Kawaii's
Kawaii's is a local shaved ice store known for its delicate, fluffy servings.
Eating flavoured shaved ice is a terrific way to cool off, and locals in Round Rock adore suggesting this shop for their wide variety of flavours.
You may eat it at any time of day, and having shaved ice here at night is one of the most popular things to do in Red Rock.
To truly appreciate why this shaved ice store is so famous, try some of the local favourites like Maui-Wowie and Jamaican Me Crazy.
• Fuego Latino Gastropub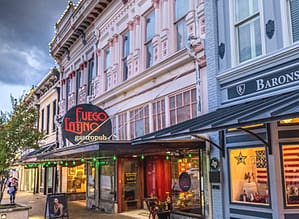 Fuego Latino Gastropub is the place to go if you want to spice up your lunch, supper, or Sunday brunch. Since he was 18 years old, owner and executive chef Jorge Alcocer has been learning, cooking, and creating culinary wonders.
Today, he's combining his knowledge and passion for authentic Latin cuisine to offer diners his unique twist on seared delicacies, traditional dishes like arroz con pollo, and innovative ideas.
Signature cocktails, local draught and can beers, Latin and domestic beers, and wine are all available at Fuego Latino Gastropub. It's a must-visit location.
Only Mondays are closed at Fuego, and reservations are recommended.
• The Round Rock at Brushy Creek Crossing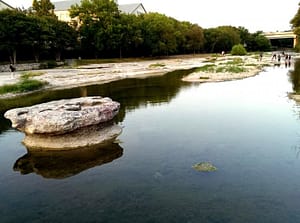 THE ROUND ROCK AT BRUSHY CREEK CROSSING is a tourist landmark that showcases the city's name's history.
Because of its historical significance, the middle of this stream is one of the best spots to visit in Round Rock. The city gets its name from a massive, slightly circular rock smack in the middle of the lake.
To see this iconic rock, go the Chisholm Trail to the centre of Brushy Creek.
• Bass Pro Shops Outdoor World
Bass Pro Shops Outdoor World is a cool wilderness-themed sporting and outdoor goods store.
There are numerous excellent outdoor recreation sites in Round Rock, and if you forgot your gear, you could always purchase it from this business. Their innovative indoor designs will blow your mind, in addition to being well-stocked.
Bring your camera since you'll want to photograph the numerous beautiful areas inside the store. There's even a natural-looking aquarium there. They also include a bowling alley and an archery range where you can shoot arrows.
• Home Run Dugout
In Dell Diamond, there is a sports-themed entertainment area called Home Run Dugout.
When a classic game of baseball is combined with cutting-edge technology, what do you get? The new, digital batting bays at this arena allow you to hit balls and simulate being in a real-life stadium.
• Centennial Plaza
The downtown plaza Centennial Plaza is located near the Baca Center and the McConnico Building.
This plaza is the spot to go if you're merely searching for a place to relax and enjoy throughout your sightseeing tour.
You can relax on the lawn, take a stroll around the grounds, or watch the bats emerge from the observation platform. You might even catch a special light show or concert while you're here if you're lucky.
Take a leisurely stroll around the square. Because of its clean and stunning vistas, it's one of the most romantic things to do in Round Rock for couples.
• Koughan Memorial Water Tower Park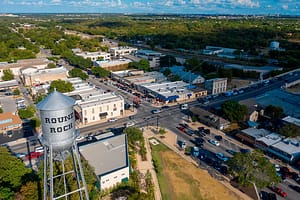 The Koughan Memorial Water Tower Park is a park near downtown that holds the town's historic water tower.
Photographing the town's water power is one of the best things to do in Round Rock, TX, because it's an iconic landmark that will look fantastic in your holiday photos.
When you're in town during the Christmas season, go to the park after dark to view the tower lit up with Christmas lights.
So this was our list of some of the best things to do in Round Rock TX, hope you got one of your favorite choice.